Normex Butterfly Valves Are you looking for a Suitable Supplier for Normex Butterfly Valves? Various Normex Butterfly Valves standards full range,fast delivery, contact Global Steel & Engg for all types of Normex Butterfly Valves. , Normex Butterfly Valves suppliers with a wide range of Stainles Steel Normex Butterfly Valves, Bronze Normex Butterfly Valves, The strength of our company lies in the strength of personnel who produce quality work. We believe in cohesiveness and team effort. The company is following the policy of continuous up-gradation of technology and processes while maintaining its cost effectiveness by making optimum use of its resources and goodwill.
Normex Butterfly Valves Price
FOB Price: US $0 to $9900 Piece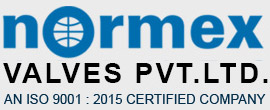 The control application in pumping systems attracted Normex to come out with control Valves i.e. Butterfly Valves. The Normex Butterfly Valve superseded the Gate Valve, Ball Valve and Globe Valve in most spheres of applications. Gas tight sealing with excellent control characteristics and uni directional flow has qualified Normex Valves by most of the industries. The centrally mounted disc, shafts and bearings has minimised head loss. It's low weight and compact design has achieved acceptability in industries like Chemical and Petrochemicals, Watertreatment, Agriculture and many

• Excellent flow control in quarter turn operation
• Low pressure drop
• Low weight, low maintenance, long service life
• 100% tight shut of
Salient Features
Excellent flow control in quarter turn operation.
Compact, space saving design.
Bi-directional1 00% tight shut off.
Low weight, low maintenance, long service life, Easy automation / retrofit possible.
Stream lined valve disc for lower pressure drop.
Both shafts mounted in bearing supports for easy operating torques.
Suitable for mounting between all standard flanges.
Gasket packing not required to install between flanges.
Sizes: 40mm to 400mm
Application
1. Water treatment plants
2. Water distribution systems
3. Power Stations
4. Chemical / Petrochemical Industries
5. Steel Mills
6. Sugar Factories / Breweries
7. Sewage Plants
8. Process Industries
9. Seawater and Brine Pumping
10. Food Processing Industries
11. Mining Industries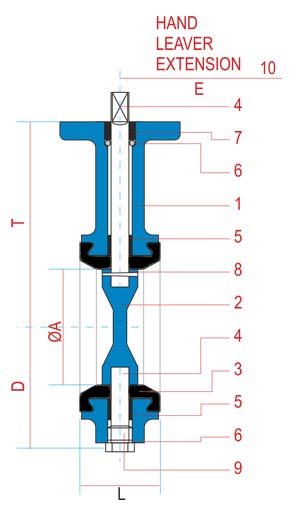 Parts list & Materials
Part

Description

Std. mode of construction

Options

1

Body

Cast Iron, GG - 25/ IS - 210 FG - 260/ BS - 1452 Gr. 260

SG Iron GGG 40 Cast Steel (WCB)
Stainless Steel CF8 / CF8M

2

Disc

SG Iron, GGG 40 IS - 1865 SG 400/12/ BS - 2789 Gr. 240/12

Cast Steel (WCB)
Stainless Steel CF8/CF8M
Aluminium Bronze IS 305 Gr2

3

Seat

EPDM

Black Nitrile, Neoprene, Viton, Silicon, Hypalon or as per customer's requirements.

4

Shafts

AISI 410

SS304/SS316

5

Bearings

Self lubricating
Phosphor Bronze

PTFE

6

'O' Rings

Nitrile

EPDM, Neoprene

7

Bush

Polyacetal (Delrin)

PTFE

8

Taper Pin

AISI 304/410

AISI 316

9

Plug

Carbon Steel

---

10

Hand Lever

MS

CI / SGI / SS
Dimension Chart
Size ( DN )

A

L

D

T

E

Wt(Kg)

40

33

55.5

101

240

2.1

50

43

64

111

240

2.8

65

46

72.5

121

240

3.4

80

46

79.5

128

240

3.6

100

52

99

147

240

4.6

125

56

115

159

240

6.3

150

56

128

173

330

8.7

200

60

156

199

330

12.2

250

68

212

248

500

25.0

300

78

239

270

-

32.0

350

78

260

321

-

64.5

400

100

298

345

69.4

450

108

326

373

-

-
Technical Data
PN 1.0 & PN 1.6 (KPa)

Pressure Testing

a) Body : 1.5 x PN
b) Seat : 1.1 x PN

Temperature

(-) 400C to 2000C

Face to Face Dimension

ISO - 5752 / IS - 13095/ BS - 5155

To suit flanges drilled as per

IS, ANSI, BS, DIN Standards.

Operation

Bi-directional

Painting

Epoxy coated
Technical Comparison
NORMEX BUTTERFLY VALVE & CONVENTIONAL GATE VALVE
Normex Butterfly Valve
Conventional Gate Valve
Compact size, short in length saves space. Lower in weight.
Bulky design, longer in length & higher in weight.
Can be used as On-Off as well partial opening or partial closing is possible.
Can be used only as On-Off. Double flanged design. Flanges are required to be drilled for the specific standard.
Flangless - fits between two flanges of any standards like IS, BS or ASA.
No drilling selection is required. Any valve off-the-shelf can be used for any drilling standards.
Once drilled cannot be fit to other standard flanges. Hence off-the-shelf avalibility is poor.
Quarter turn operation - valve opening to closing position is just quarter turn.
Hence on-off operation very easy.
Multi turn operation - valve opening to closing requires at least 12 turns (depending on valve size) hence process is very tidious.
Any position of the valve viz, on, off or intermediate can be known visually.
Valve position is not known especially in non rising spindle design.
100% leakproof over the life.
Leakproofness not guaranteed.
As it fits between two pipe flanges, only one set of bolts is enough for installation.
Two set of bolts are required for installation - one set for each flange.
Lower priced - saves your cost.
Higher price.
Normex Butterfly Valves Export Below
Normex Butterfly Valves Dealer in Gujarat
Normex Butterfly Valves Dealer in Tamil Nadu
Normex Butterfly Valves Dealer in Maharashtra
Normex Butterfly Valves Dealer in Haryana
Normex Butterfly Valves Dealer in Karnataka
Normex Butterfly Valves Dealer in Delhi
Normex Butterfly Valves Dealer in Andhra Pradesh
Normex Butterfly Valves Dealer in Orissa
Normex Butterfly Valves Dealer in Uttar Pradesh
Normex Butterfly Valves Dealer in Madhya Pradesh
Normex Butterfly Valves Dealer in Vadodara
Normex Butterfly Valves Dealer in Coimbatore
Normex Butterfly Valves Dealer in Mumbai
Normex Butterfly Valves Dealer in Navi Mumbai
Normex Butterfly Valves Dealer in Mahape
Normex Butterfly Valves Dealer in Chennai
Normex Butterfly Valves Dealer in Surat
Normex Butterfly Valves Dealer in Ahmedabad
Normex Butterfly Valves Dealer in Gurgaon
Normex Butterfly Valves Dealer in Noida
Normex Butterfly Valves Dealer in New Delhi